So if you're looking for some Japanese food to try when you're in Japan, you may give a taste to okonomiyaki.
This is considered a type of "pancake" and it can be filled with a variety of ingredients.
The "base" is cabbage.
While you can find okonomiyaki across Japan, including in Tokyo and Kyoto, there are 2 cities in Japan that are famous for okonomiyaki:
These 2 cities are in a bit of a battle over which makes the better okonomiyaki.
So if you are in Osaka or Hiroshima… be sure to give it a try!
There will be many places to eat okonomiyaki, and you'll even find specialty restaurants that focus ONLY on okonomiyaki too.
You may also be able to find okonomiyaki at grocery stores in the fresh food section for like 100 yen (US$1). It's packaged but it would have been made pretty recently. (aka cheap meal idea!)
See more on the cost of food in Japan.
Okonomiyaki made right in front of you
If you go to a shop or a restaurant, there are places that you can watch the okonomiyaki being prepared!
And if you find that you really like okonomiyaki when you try it, you can even find cooking classes in Japan that will teach you how to make okonomiyaki!
Okonomiyaki shop menu
And how much does it cost?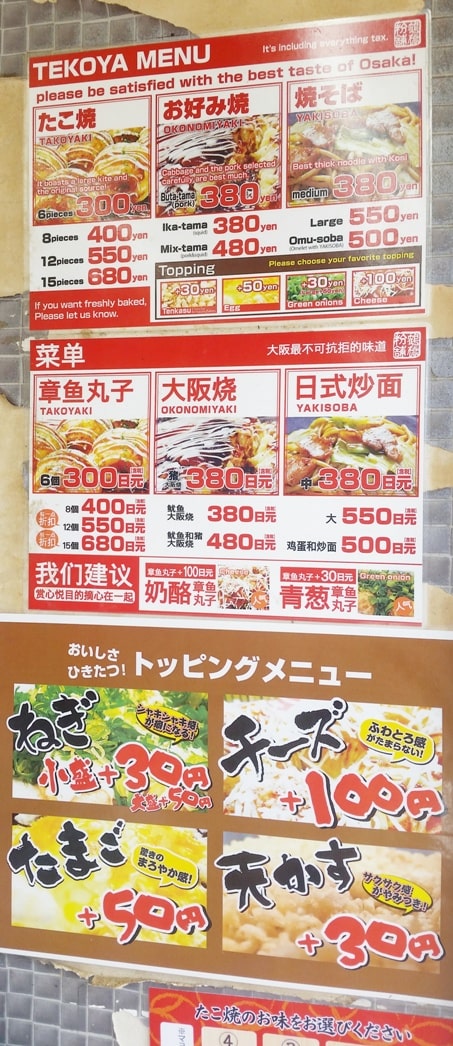 So this particular shop has a few other things you can buy here too, like takoyaki and yakisoba.
An order of okonomiyaki costs around 400 yen (US$4).
The main ways to order okonomiyaki are with:
Pork
Squid
Combo of pork and squid
I asked for it to be made without the meat or squid.
Eat okonomiyaki as your last meal in Japan!
If you'll be flying out of Kansai airport in Osaka, these pictures above are from the okonomiyaki stand right in front of the Izumisano train station.
This is a train station right before the bridge to Kansai airport.
So if you have a flight that will be departing later in the day, you can make a slight detour for a stop at this train station!
Then once you arrive at Izumisano, you can step outside the train station…
Head over to the okonomiyaki shop…
And buy the okonomiyaki! (You can get takoyaki too.)
Then back to the train station you go to head the rest of the way to the airport!
You'll be getting it to-go, so you can even wait to eat it until you're at the airport.
If this plan sounds good to you, see the map for the visual.
As you're walking out of the train station, the shop will be on the right side.
HAPPY EATING OKONOMIYAKI IN JAPAN!
How to spend winter in Japan
More quick tips for planning your trip to Japan
There are affiliate links on this page that take you to partner websites.
Among the top things people get specific for a trip to Japan
Food in Japan
If you are in Japan for FOOD, then be sure to see
where to try different types of Japanese food
! (Sometimes for cheaper!)
And also have a look at some of
these cooking classes in Japan
too.
When the JR pass is worth it
In general, 2 long-distance shinkansen train trips will likely end up making it so the JR pass will be worth it. But
here's how to calculate it
to be sure. See the
current price
of a JR pass from an official vendor.
Natural disasters in Japan
Unfortunately, Japan can be prone to natural disasters which means risk for travel delays. So be sure to look at
travel insurance for natural disasters
.
My travel insurance took care of my accommodation and food costs when I was forced to stay extra days in Japan because of a typhoon. There have been a few typhoons that have hit Japan in the past couple of years and they can cause real travel disruptions!
See
how much insurance costs
for your trip.
Create your Japan itinerary