Hi there!
The Mount Tenjo hike can be a perfect part of your one day in Kawaguchiko, and it would also be reasonable to add it as a part of a day trip from Tokyo.
This is a pretty short hike (less than an hour), but it can be a nice way to catch some Mt Fuji views.
The highlight of this hiking trail is the Mt Fuji views you see along the way. There are a couple of overlooks.
You can finish off the hike with a ropeway down with views of Lake Kawaguchiko, one of the lakes that are a part of the Fuji Five Lakes area.
Mount Tenjo hike as part of a 3-day trip to climb Mt Fuji and see Mt Fuji views
I stopped by Kawaguchiko after climbing Mt Fuji, and this is what my Mt Fuji climb + Kawaguchiko trip looked like:
Climb to Mt Fuji summit with overnight mountain hut stay!
Bus from 5th station to Kawaguchiko
Mt Tenjo hike
Mt Kachi Kachi ropeway
Lake Kawaguchiko boat ride
Tourist train from Kawaguchiko to Otsuki on railway that gets closest to Mt Fuji
Train from Otsuki to Tokyo
As part of this 3-day trip, I did the Mt Tenjo hike in early September 2018.
I did the Mt Tenjo hike again in April 2019, alongside a trip to Fujiyoshida to see famous views of the Chureito Pagoda with Mt Fuji in the background. Kawaguchiko to Fujiyoshida (Shimoyoshida station) is about a 15 minute train ride.
Mount Tenjo hiking options
There are basically 4 options to do the Mt Tenjo hiking trail.
Take the ropeway up and down
Take the ropeway up
Hike for 10-15 minutes for Mt Fuji views on the Mt Tenjo trail
Take the ropeway back down
Take the ropeway up, hike down
Take the ropeway up
Hike back down on Mt Tenjo trail and stop at the Mt Fuji overlooks
Hike up, take the ropeway down
Hike up to Mt Tenjo summit from near Lake Kawaguchiko and stop at the Mt Fuji overlooks
Take the ropeway down
Hike up, and hike back down!
You don't need to hike at all to see Mt Fuji from Mt Tenjo
When you take the Mt Kachi Kachi ropeway, you can see Mt Fuji without going on any hiking trail.
You won't see Mt Fuji when you're on the ropeway, but there's an observatory area that's located at the top of the ropeway station that will afford you grand views of Mt Fuji.
Since most people take the ropeway to access this observatory, that means it can get a bit crowded.
Less people go on the trail, which means that the Mt Tenjo hike will allow you to take in the Mt Fuji views without the crowds!
More below on getting to the Mt Tenjo hike!
🗾
More info/pictures below, but first... SIDE NOTE!
Where to go from Kyoto?! You can go to to
Nachi Falls
to see one of Japan's most famous views:
Kyoto to Nachi Falls
! Then you can loop back around to Osaka or Kyoto, making a stop at
Ise
along the way!
Here are more ideas for your Japan trip planning!
Okay, so…
Starting the Mount Tenjo hike from near Lake Kawaguchiko
My first activity of the day was the Mt Tenjo hike.
So I started from the hostel I was staying at and went towards the Lawson's convenience store near Lake Kawaguchiko.
It's near the convenience store that you can find the trail that leads to the actual start of the Mt Tenjo hiking trail.
The walk from the hostel to Lawson's was about 15 minutes.
You should stop by the convenience store for drinks and snacks before you start your hike!
Your landmark on Google Maps: Tenjoyama Gokoku Shrine
So this hiking trail can be a little hard to find, at least coming from Lake Kawaguchiko.
Now that I look at a Google Maps, it seems like there's a regular road that will lead you to this shrine. That would be the least complicated way.
The "walking directions" don't seem to take the direct route from Lake Kawaguchiko. (The direct route would be by taking the trail near Lawson's that doesn't appear on Google Maps.)
Starting from the hidden trail
This hidden trail isn't the start of the trail to the Mt Tenjo summit.
Instead, this is a trail to get you to the trail.
And maybe this isn't a truly hidden trail, but it sure didn't feel like an obvious trail either!
I didn't know what I was looking for, so it took some wandering around to find it!
But this trail is somewhat of a shortcut I guess, instead of walking on the main streets to get to the shrine, as Google Maps suggests.
To find the hidden trail, you'll go on the street that's around the corner of Lawson's.
And then you'll find this trail that leads to the trail at a parking lot on the left side.
This is what it looked like when I did this hike in September 2018.
So basically, you're looking for something that looks like it was once a wooden sign, a sign with an arrow (that may or may not be on the ground), and a railing! 😉
Then…
You can start up that trail!
Detour to views of Lake Kawaguchiko
The trail is not that long, maybe 5 minutes, and it'll drop you to a street.
From here, you can look at your phone with GPS to go in the direction of the shrine. I think you go right.
Or you can go in the opposite direction to get some lake views.
Well I didn't purposely make this detour (I went in the wrong direction), but at least this did come with nice views!
So basically, if you are walking down the street and you come across lake views or a hotel facing the lake… you're going in the wrong direction.
Start of the trail to Mt Tenjo summit!
Here's the start of the hiking trail to the Mt Tenjo summit!
Kawaguchiko Station to Mt Tenjo hiking trail
If you're coming from Kawaguchiko station because you're visiting as a day trip from Tokyo, then you don't need to bother with the hidden trail.
You can check Google Maps for directions to Tenjoyama Gokoku Shrine, and you can stay on regular roads to get you to the start of the trail to the Mt Tenjo summit.
It will be about a 10-15 minute walk from the station. The Kawaguchiko Station is both the bus station and the train station.
When I did the multi-day "Mt Fuji views" trip that included the Chureito Pagoda with Mt Fuji in the background, I did the Mt Tenjo hike from the Kawaguchiko station.
Following Google Maps, it was relatively simple to figure out. Although I was checking the map multiple times, since you're going down kind of small residential streets when you get closer!
So no matter how you're getting to the trailhead…
Here's a bit of what the trail looks like up to the Mt Tenjo summit!
Mt Fuji views
Be sure to check out the map when you're on the trail.
It will tell you where Mt Fuji overlooks are.
Although, even if you don't check the map, you'll see Mt Fuji.
I think the map gives one extra viewing point that you might miss if you didn't make the slight detour.
Need to get all the viewing of Mt Fuji that you can, right?!
Lake Kawaguchiko views
You'll also come across views of the lake a couple of times as you get closer to the summit.
Ajisai hiking trail and Ajisai park with hydrangea flowers
Officially, it seems that the name of this trail (or at least a part of it) is called the Ajisai hiking trail.
I don't know my flowers, but apparently, ajisai is French hydrangea, and there's apparently a hydrangea park near the trail.
Mt Tenjo to Mt Mitsutoge
From the Mt Tenjo summit, you can also continue towards the Mt Mitsutoge summit.
Mt Kachi Kachi ropeway down!
Or if you're ready to head back down after wandering around the Mt Tenjo observatory area, you can hike back down the way you came, or you can take the ropeway!
HAPPY MT TENJO HIKE WITH MT FUJI VIEWS!
Best of Kyoto (and Japan!)
👇
Explore the best places to visit in Japan!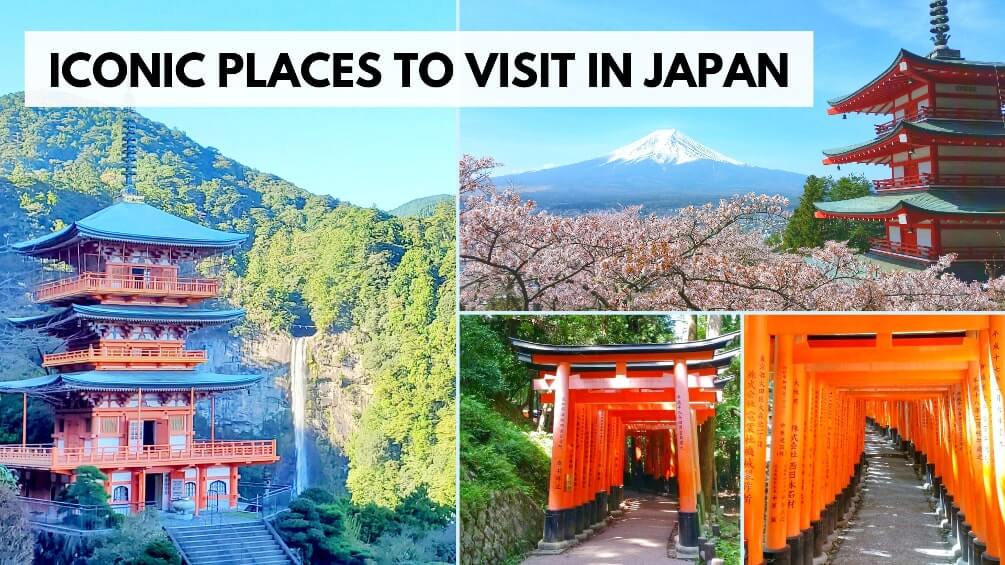 👆
How to start using this Kyoto map: Click the top left icon! Or just zoom in to start looking and clicking around to see pictures of the best places in Kyoto! See tips for how to use this Kyoto map.