So if you're looking for a half day excursion in Kyoto, a walk from Gion to Kiyomizu-dera Temple could be perfect!
If you were to do a point-to-point walk, it might take you around 30 minutes.
But if you include the wandering you'll do around the areas that are a part of this walk, it's possible that it'll take you some (a lot) more time.
And, you'll want to give yourself some time at your final stop of Kiyomizu-dera Temple too.
Gion is a famous district in Kyoto, so it can make a good starting point.
And the Kiyomizu-dera Temple is a famous UNESCO world heritage site in Kyoto, so it can make a good destination!
Along the way, you can make a point to pass by some streets that you might call "classic Kyoto" or "classic Japan," so it can give you another glimpse into Japanese culture and architecture!
You can also do this route in the opposite direction, from Kiyomizu-dera to Gion.
It actually might be a little easier that way, since there's a hill on this route which would be downhill if you go from Kiyomizu-dera Temple to Gion.
Now…
First, the quick list of places that are a part of this walk.
Then, a few more pictures to see if you want to do this Kyoto walk!
Places to visit when walking from Gion to Kiyomizu-dera Temple
2. Chion-in Temple
Japanese language tip: TEMPLE
On its own, tera in Japanese means temple.
In this case of attaching to another word, tera usually becomes dera.
So the dera part of Kiyomizu-dera means temple.
When speaking generally of a temple, you may also hear it being referred to as otera.
Gion to Kiyomizu-dera walk as part of a one day Kyoto itinerary
I made Gion and Kiyomizu-dera Temple a part of my day with an unlimited one day Kyoto bus pass:
Now…
Here's a bit of what you might see on this Kyoto walk!
For the visual of this walking route, have a look at this map.
Starting in Gion
So for the purpose of this walk, we'll start at Yasaka Shrine as a convenient landmark!
Yasaka Shrine
Yasaka Shrine to Chion-in Temple
By going to the Chion-In Temple, you'll be forced to backtrack a little bit.
But this is pretty close to Yasaka Shrine so it's not too much backtracking.
This might be about a 5 minute walk.
You might also consider stopping by Maruyama Park on your way to the temple.
Chion-in Temple
Once you've made it to Chion-in Temple, there's a bit of walking around that you can do here.
Chion-in to Ninenzaka
Once you've finished up walking around the grounds of Chion-in Temple, you can start making your way to the narrow streets of Ninenzaka and Sannenzaka!
It'll probably take around 10-15 minutes to get there.
Ninenzaka slope and Sannenzaka slope
These 2 streets of Ninenzaka and Sannenzaka are located right near one another.
They are located on a hill, and going from Gion to Kiyomizu-dera, you will be going on a slight incline.
This area can be a good place to do some souvenir shopping or gift shopping with all the little shops around.
It can also be a good area to take in a tea ceremony!
These streets aren't that long, so if you were to walk straight from the around one end of Ninenzaka to the other end of Sannenzaka, it might take about 5-10 minutes without any stops.
Sannenzaka to Kiyomizu-dera
And then finally, once you've made it past Sannenzaka, off you go to the Kiyomizu-dera Temple!
This will be about a 5-10 minute walk.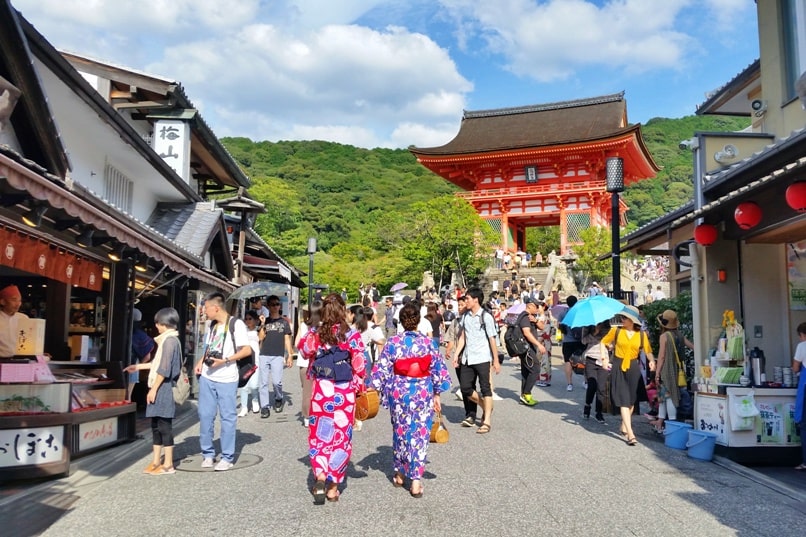 Kiyomizu-dera Temple
You might end up spending 1-2 hours here.
HAPPY WALKING FROM GION TO KIYOMIZU-DERA TEMPLE!
How to spend winter in Japan
More quick tips for planning your trip to Japan
There are affiliate links on this page that take you to partner websites.
Among the top 3 things people get specific for a trip to Japan
Use this Kyoto tourist map to plan out your 5 days in Kyoto!

For more on planning your trip to Kyoto, see the 1-day, 2-day, and 5-day Kyoto itineraries. If you'll be in Kyoto in the spring, also see the 1-day cherry blossom photo walk.

Food in Japan If you are in Japan for FOOD, then be sure to see where to try different types of Japanese food! (Sometimes for cheaper!)

And also have a look at some of these cooking classes in Japan too.

When the JR pass is worth it In general, 2 long-distance shinkansen train trips will likely end up making it so the JR pass will be worth it. But here's how to calculate it to be sure. See the current price of a JR pass from an official vendor.

Natural disasters in Japan Unfortunately, Japan can be prone to natural disasters which means risk for travel delays. So be sure to look at travel insurance for natural disasters.

My travel insurance took care of my accommodation and food costs when I was forced to stay extra days in Japan because of a typhoon. There have been a few typhoons that have hit Japan in the past couple of years and they can cause real travel disruptions!

See how much insurance costs for your trip.

Create your Japan itinerary

That's it for now!