Hi there!
If you're looking for a quick city escape with a bit of nature, a trip to Kurama or Kibune can be a good choice.
In total, this activity can be good as a half day trip.
You might consider doing this hike in the morning, and then head to Ohara village in the afternoon for a day trip from Kyoto with a one day pass!
You can do this hike in either direction – from Kurama to Kibune or Kibune to Kurama.
You can also think of this as a cultural walk.
It will take you from temple to shrine (or shine to temple) – the Kurama-dera Temple and the Kifune-jinja Shrine.
You may consider doing this hike in the morning, and then that leaves you the afternoon for another activity in Kyoto.
The Kurama to Kibune hike can also be paired with a trip to the Ohara village, if you want to make it a day of activities on the outskirts of Kyoto – Kurama and Kibune in the morning, and then Ohara in the afternoon!
This hiking trail suffered typhoon damage in September 2018 which resulted in the trail being closed. It's said to open back up in 2019, so when you're in Kyoto, confirm with your hotel to see if you can do this hike!
And make sure you have travel insurance for natural disasters in case you find yourself in the path of a typhoon!
Kurama to Kibune hike as part of a one day Kyoto itinerary
I did the Kurama to Kibune hike as a part of a day trip to Kurama, Kibune, and Ohara with a one day pass:
Visit to Kurama-dera Temple
Kurama to Kibune hike
Visit to Kifune Shrine
Kibune to Ohara bus
Visit to Sanzen-in Temple
Visit to Jakko-in Temple
Ohara to Kyoto bus
And then you can make the Kurama to Kibune hike a part of a 5-day Kyoto itinerary.
With 3 days in Kyoto, you can do this hike on day 3 and add it onto this 2-day Kyoto itinerary.
Kurama Onsen
The Kurama to Kibune hike can be easily accessed when you're staying in one of the main parts of Kyoto.
But if you're looking for a bit of a unique experience when you're in Japan, you may consider spending a night or more at the Kurama Onsen with a hot spring bath.
This is a well-known Japanese-style ryokan in the mountains.
Put in "Kurama Onsen" below (partner website) along with your travel dates (or any future date) to see more about this place!
And while we're at it! 😉
Let's get a visual of the Kurama to Kibune hike on a map!
Search the above map for the following:
Kurama station
Kurama-dera Temple
Kifune-jinja Shrine
You will basically be hiking from Kurama-dera Temple to the Kifune shrine.
You can also zoom out on the map to see that you will indeed be on the outskirts of Kyoto!
Japanese language tip #1: TEMPLE
On its own, tera in Japanese means temple.
In the case of attaching to another word, tera usually becomes dera.
So the dera part of Kurama-dera means temple.
When speaking generally of a temple, you may also hear it being referred to as otera.
Japanese language tip #2: SHRINE
Jinja means shrine.
Japanese language tip #3: KIBUNE or KIFUNE
Fune is a word on its own in Japanese. (It means boat.)
In this case of attaching to another word, fune might become bune.
In the Japanese writing of kanji (Chinese characters), it's written the same way but you might see reference to both Kibune and Kifune.
It's been said that the location is referred to as Kibune (for example Kibuneguchi train station), while the shrine is referred to as Kifune (so Kifune-jinja shrine).
Okay, so…
Here's what your day might look like when you do the Kurama to Kibune hike!
So being on the outskirts of Kyoto, it means it might take a little bit of extra work (and time) to get there.
But it's still not too difficult to get from Kyoto to Kurama, and you can consider it a part of your Japan adventure!
The best thing to do is to consult Google Maps for the best way to get to Kurama station from where you are located.
For the purpose of this half day trip, we'll start from the Kyoto bus station.
This will likely mean you'll take a bus and a train to get to Kurama, the starting point of your hike.
Kyoto station to Demachiyanagi station bus
Demachiyanagi to Kurama train
Arrive at Kurama train station
Kurama station to Kurama-dera Temple
From Kurama station, you'll start towards the direction of the Kurama-dera Temple.
You'll come across a cable car platform, and you can take this to ease a bit of your hike.
Otherwise, you can walk the path instead of taking the cable car that costs 200 yen (US$2).
And then you'll keep walking until you come to the area of Kurama-dera Temple.
Be prepared for stairs!
Kurama-dera Temple
The grounds of this temple isn't that big, and you can wander around here for a little bit, and you can also spend longer here if you want to rest up a bit and take in the nature and mountains around you.
Kurama-dera Temple to Kibune town
Once you've finished up walking around the temple, then comes the main part of the hike through the forest to get to Kibune.
It is more of an uphill if you go from Kurama to Kibune, which means going from Kibune to Kurama might feel a little bit easier.
Although walking all downhill means more strain on your knees! That's when trekking poles or a walking stick can be helpful.
This part might take around 30 minutes.
Streets of Kibune
So you'll eventually come across a street.
And from there, it's a short walk to the shrine.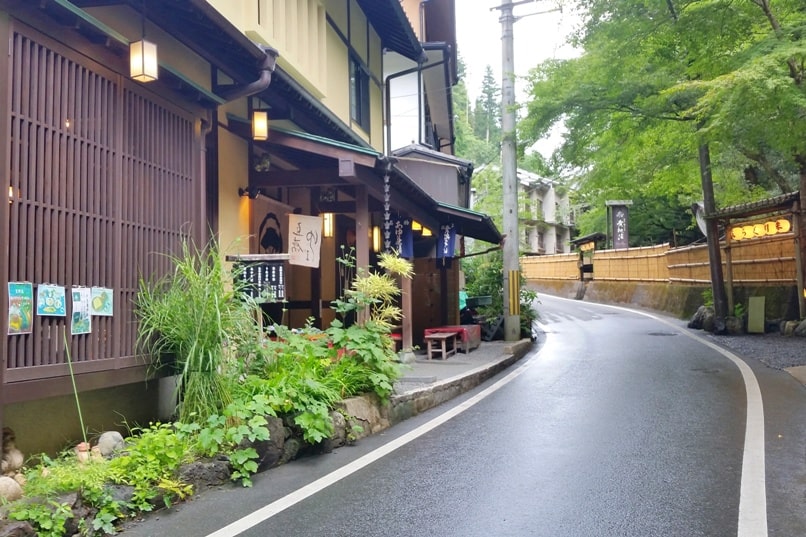 Kifune-jinja Shrine
Kibune to Kyoto
And then once you've finished up your visit to the Kifune shrine, you can make your way back to Kyoto.
You'll be able to find a way back from Kibune to Kyoto Station – consult Google Maps!
Before you head back, you may consider stopping for a tea or some food sitting right above the river too!
HAPPY KURAMA TO KIBUNE HIKE!
How to spend winter in Japan
More quick tips for planning your trip to Japan
There are affiliate links on this page that take you to partner websites.
Among the top 3 things people get specific for a trip to Japan
Use this Kyoto tourist map to plan out your 5 days in Kyoto!

For more on planning your trip to Kyoto, see the 1-day, 2-day, and 5-day Kyoto itineraries. If you'll be in Kyoto in the spring, also see the 1-day cherry blossom photo walk.

Food in Japan If you are in Japan for FOOD, then be sure to see where to try different types of Japanese food! (Sometimes for cheaper!)

And also have a look at some of these cooking classes in Japan too.

When the JR pass is worth it In general, 2 long-distance shinkansen train trips will likely end up making it so the JR pass will be worth it. But here's how to calculate it to be sure. See the current price of a JR pass from an official vendor.

Natural disasters in Japan Unfortunately, Japan can be prone to natural disasters which means risk for travel delays. So be sure to look at travel insurance for natural disasters.

My travel insurance took care of my accommodation and food costs when I was forced to stay extra days in Japan because of a typhoon. There have been a few typhoons that have hit Japan in the past couple of years and they can cause real travel disruptions!

See how much insurance costs for your trip.

Create your Japan itinerary

That's it for now!