Hi there!
So taking a bus in Kyoto doesn't have to be complicated!
Once you take the bus once or twice, you'll feel like a pro!
The "hardest" part is making sure you get on the right bus.
But even that can be pretty easy – thanks to Google Maps!
I found Google Maps to be a reliable way to getting around Kyoto.
So there are 2 main types of buses in Kyoto.
1. The City Bus
aka shi-basu, with "shi" being city – but don't always use that as a direct translation – and "basu" being bus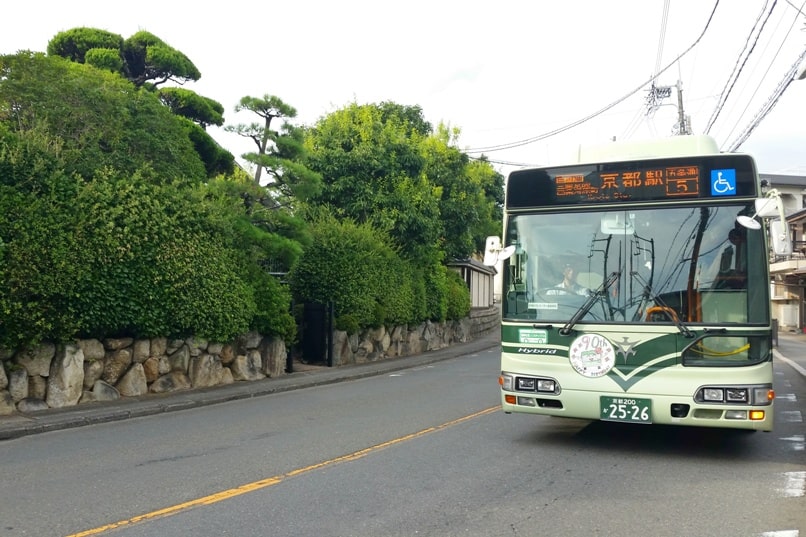 2. The Kyoto Bus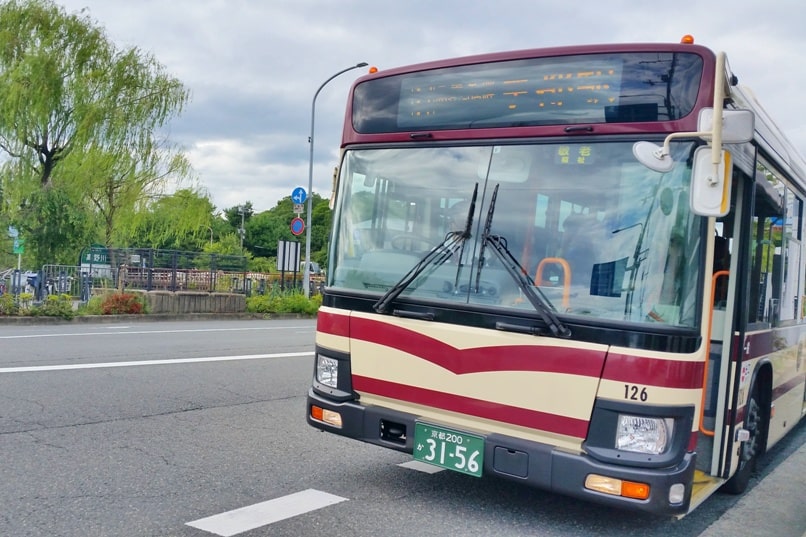 As far as which is best, it really doesn't matter which one you take to get to your Kyoto destination.
But they are different, and for you the difference that matters is the cost of the bus fare.
Again, I don't think the cost isn't that drastically different in most cases to choose one bus over the other, but it's just more something to be aware of.
So then…
How much is the bus fare in Kyoto?
The city bus is a flat rate of 260 yen per bus ride.
The Kyoto bus is based on where you get on and get off, so the exact bus fare will depend on your route, but it will probably be between 200-500 yen.
🗾🚌
And here are some of the top places to visit in Kyoto by bus.
Now…
How to take the bus in Kyoto
So once you're at the bus stop, you'll get on the bus with the route number you're looking for.
The number is big and obvious so you can't really miss it.
As you get on the bus, look to the right as you're getting on.
If there's a box there with a ticket sticking out…
Grab the ticket!
Or, if you're traveling around Kyoto with an IC card, then look for the IC swipe spot, and swipe the card!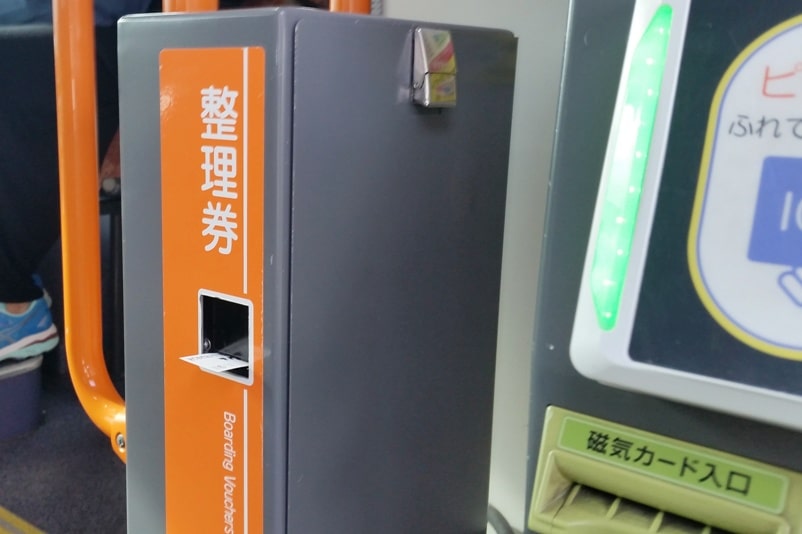 This will ONLY be on buses that do NOT have a flat rate bus fare. (So you will take a ticket for the Kyoto bus.)
But in case you don't remember which bus is which, just always look for a spot to grab the ticket when you get on the bus. It'll be a good habit to get into because buses across Japan are like this.
This ticket has a number on it.
And it's this number that will tell you how much you need to pay. (More on this in a bit.)
Okay, so you're on the bus.
Hopefully you get a seat!
It's very possible that you may be standing your whole bus ride.
So follow along on Google Maps with your GPS locator on so you can know when you're approaching your stop.
When your stop is coming up next, you'll push the button.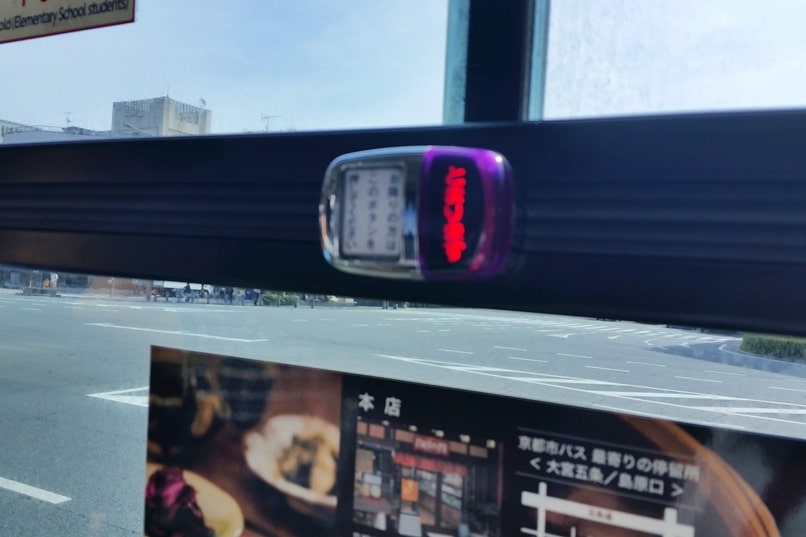 This indicates to the driver to stop at the next bus stop.
The bus stops will be announced, and some buses also have a digital sign board at the front of the bus.
Now, if you're on a bus that you grabbed a ticket and you're paying in cash…
There's a sign board at the front of the bus that will tell you the corresponding rate that you'll pay once you're ready to get off. The adult fare and child fare is shown.
Then you'll pay that amount in cash right before you get off the bus.
You'll drop the exact change into the fare box. There's a change machine if you don't have exact change.
Or you'll swipe your IC card if you're traveling with that.
And you're done!
Now, there are actually 2 more type of buses in Kyoto that you'll probably see around.
The above "City bus" and "Kyoto bus" are the main ones.
The Raku bus
The city bus and the Kyoto bus are basically the regular buses.
And then there is also the Raku bus, which is actually a type of city bus, but it looks a little different from a regular city bus.
The Raku bus is basically a tourist bus with a route that caters to the Kyoto sightseeing spots.
The bus fare for the Raku bus is a flat 230 yen per ride.
The boarding process and payment process is a little different with the Raku bus. You'll board at the front, and also pay as soon as you get on the bus.
It may sound confusing that there are different procedures, but basically once you're there, just follow the crowd and you'll be able to figure it out!
The JR bus with a JR pass
If you are traveling around Japan with a JR pass, you can also use that pass to take the JR bus.
The JR bus is the ONLY bus in Kyoto that you can take and ride the bus for free in Kyoto.
This JR bus route is a bit limiting, and doesn't go to many of the top spots in Kyoto, but you can get to a few places with it.
See the JR bus route here.
And then finally…
Kyoto bus pass
You might also consider looking into getting a one day Kyoto bus pass to make a part of your 5 day Kyoto itinerary!
This one day pass will cover all bus rides for the day on both Kyoto buses and City buses.
And that's a bit about taking the bus in Kyoto!
HAPPY GETTING AROUND KYOTO BY BUS!